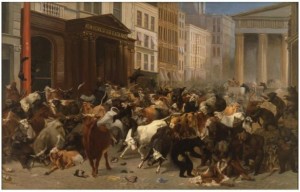 Duke University professor John Staddon argues in The Malign Hand Of The Markets that if you subscribe to Adam Smith's "Invisible Hand" theory — that private business interest always serves the public good — you might want to think again.
WHAT'S THE MATTER WITH WALL STREET?
In this bombshell of a book,  a darker, more powerful "Malign Hand" has been driving our economy into an endless boom-and-bust cycle that is unhealthy, unstable, and undeniably dangerous. This eye-opening book reveals:
Why most of our assumptions about Wall Street are wrong
How the financial sector profited from the government bailouts
What most people don't understand about home ownership
Why the Dodd-Frank regulatory bill won't work
How to prevent another market crash
Sure to provoke controversy on Wall Street, in Washington, and across the globe, Staddon's fascinating approach to economic theory not only analyzes our current problems in a bold new light, but offers real solutions as well. By combining a range of disciplines—evolutionary biology, psychology, behavioral economics, and moral philosophy—Staddon's book is required reading for anyone interested in the future of finance.